South Coast Artificial Grass LTD
Specialist installers of UV artificial grass across Bournemouth, Poole and Dorset
Child & Pet friendly, No mud or mess
01202 914300
07703407878
Need Help? Our Experts Are Waiting To Help You
Transform your garden with artificial grass
Fed up of a water soaked garden, mud or puddles?
Do you have a north facing garden?
Does your garden get very little sun light?
Will Grass not grow no matter what you do?
Fed up of cleaning unwanted mess that children and pets bring into your home?
Tired of mowing and maintaining?
Want something that's not only low cost, low maintenance but durable as well as child and pet safe? Why don't you get in touch with South Coast Artificial Grass, your premier installer of artificial grass. We will happily provide you with a no obligation free quotation and answer any questions you might have.
Why Choose Us
10 year guarantee

Friendly
A friendly team of staff you can rely on,dedicated to getting everything right for you.

Artificial Grass Specialists
We have a team of specialists to ensure every job is completed to the highest standard

Quality Materials
We pride ourselves on only installing the highest quality materials, guaranteeing a finish you will love

Quality After Care
Our team are always on hand after installation to help you maintain your perfect new garden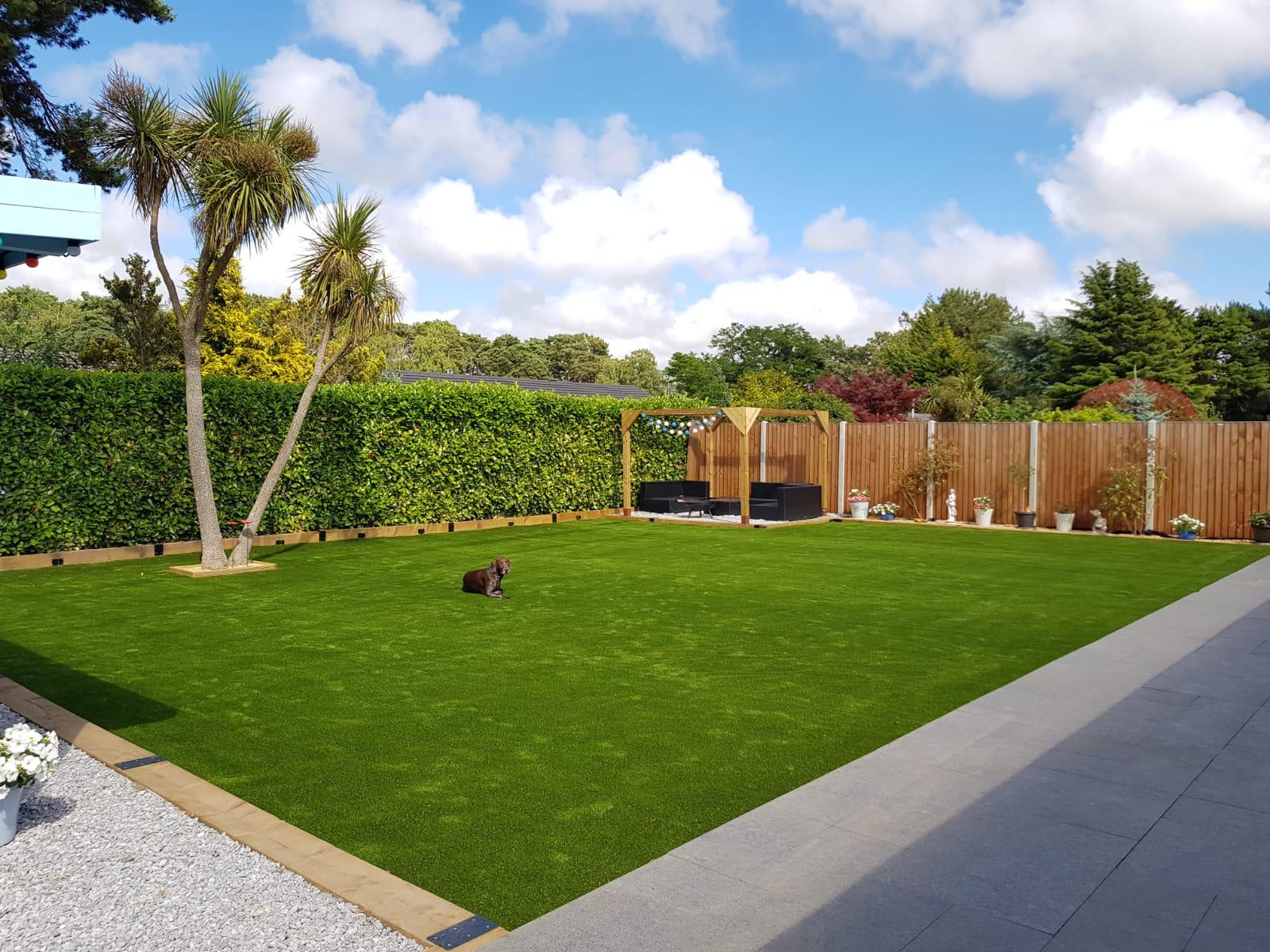 South coast artificial grass are your premier suppliers and installers of artificial grass. We have a tried and tested method of installing artificial grass from start to finish that not only gives the wow factor but won't break the bank. We pride ourselves in our workmanship and use the highest quality in materials throughout.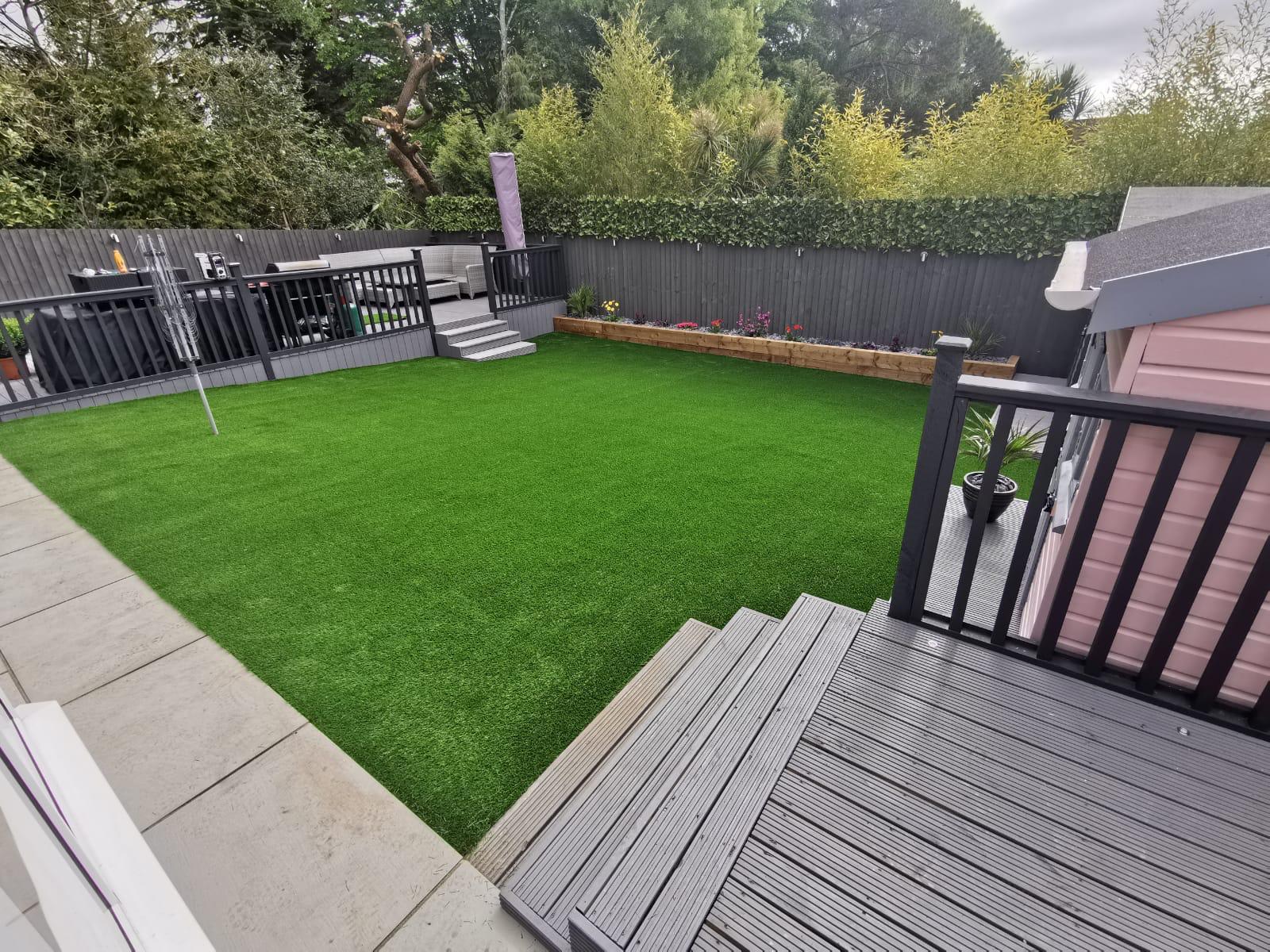 Before and after example cost
Cost is for full construction, excavation of existing area and removal of waste, supply and installation of new aggregate sub base, supply and installation of weed proof membrane, supply and installation of UV resistant artificial grass and fixings.
Small print – final figure is subject to site survey and dependant on choice of grass, access, location, ground condition/levels.
4m x 6m completed for under £1500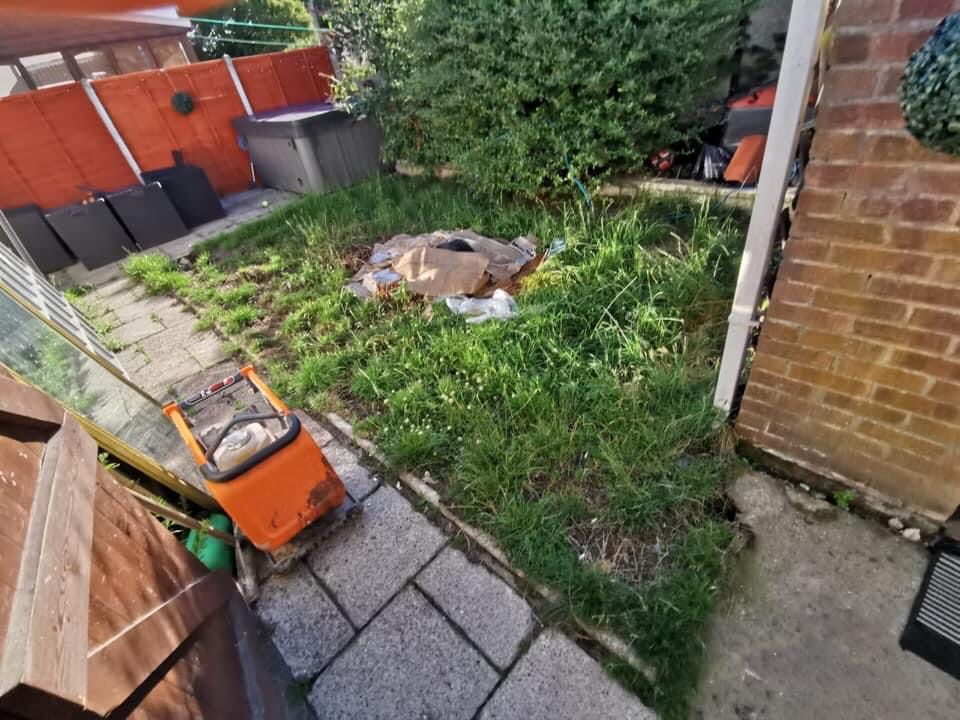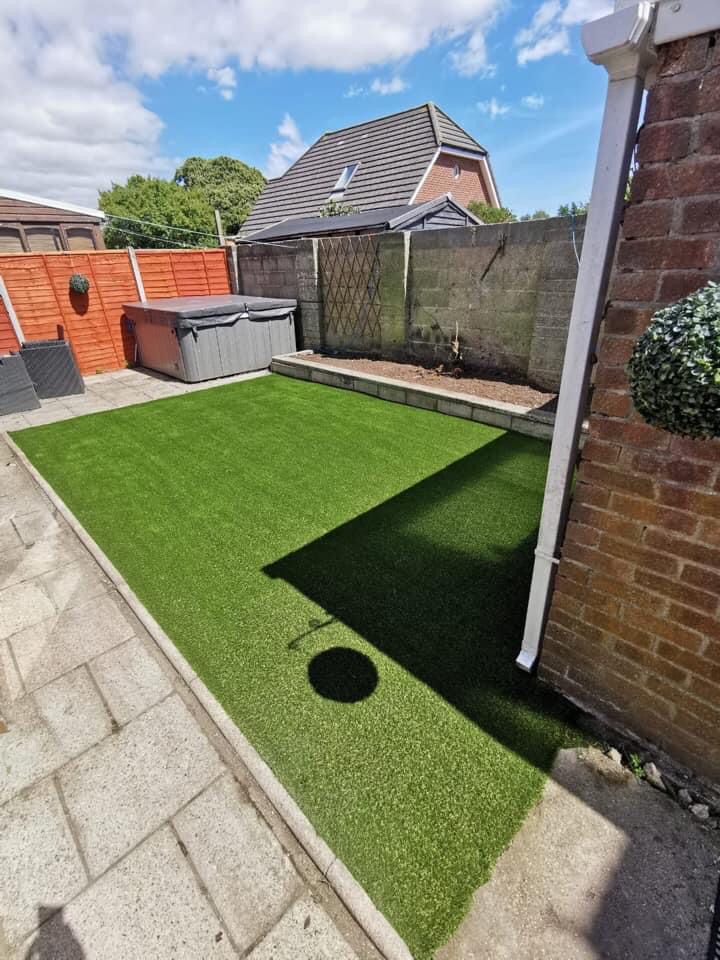 8m x 6m completed for under £3000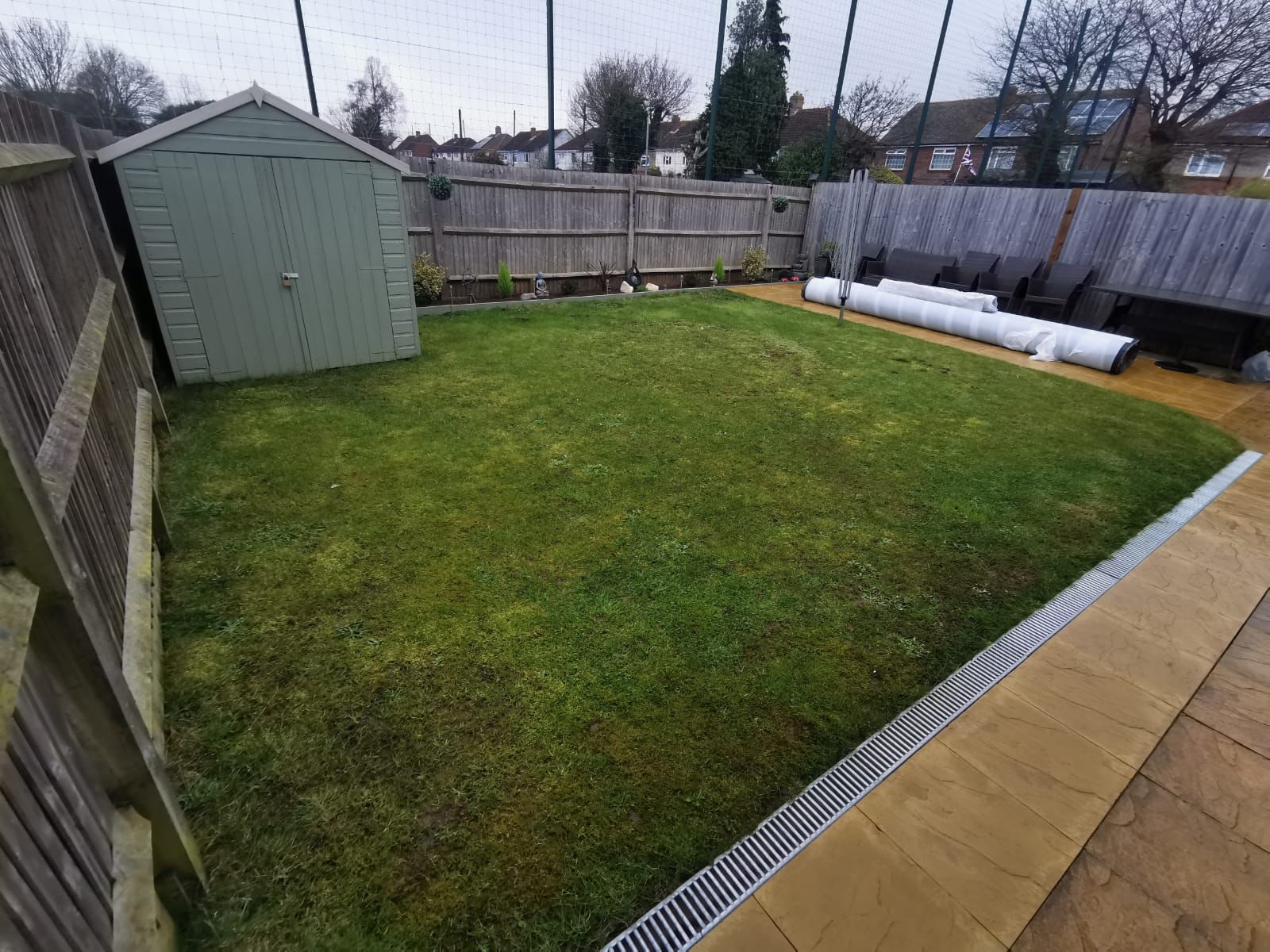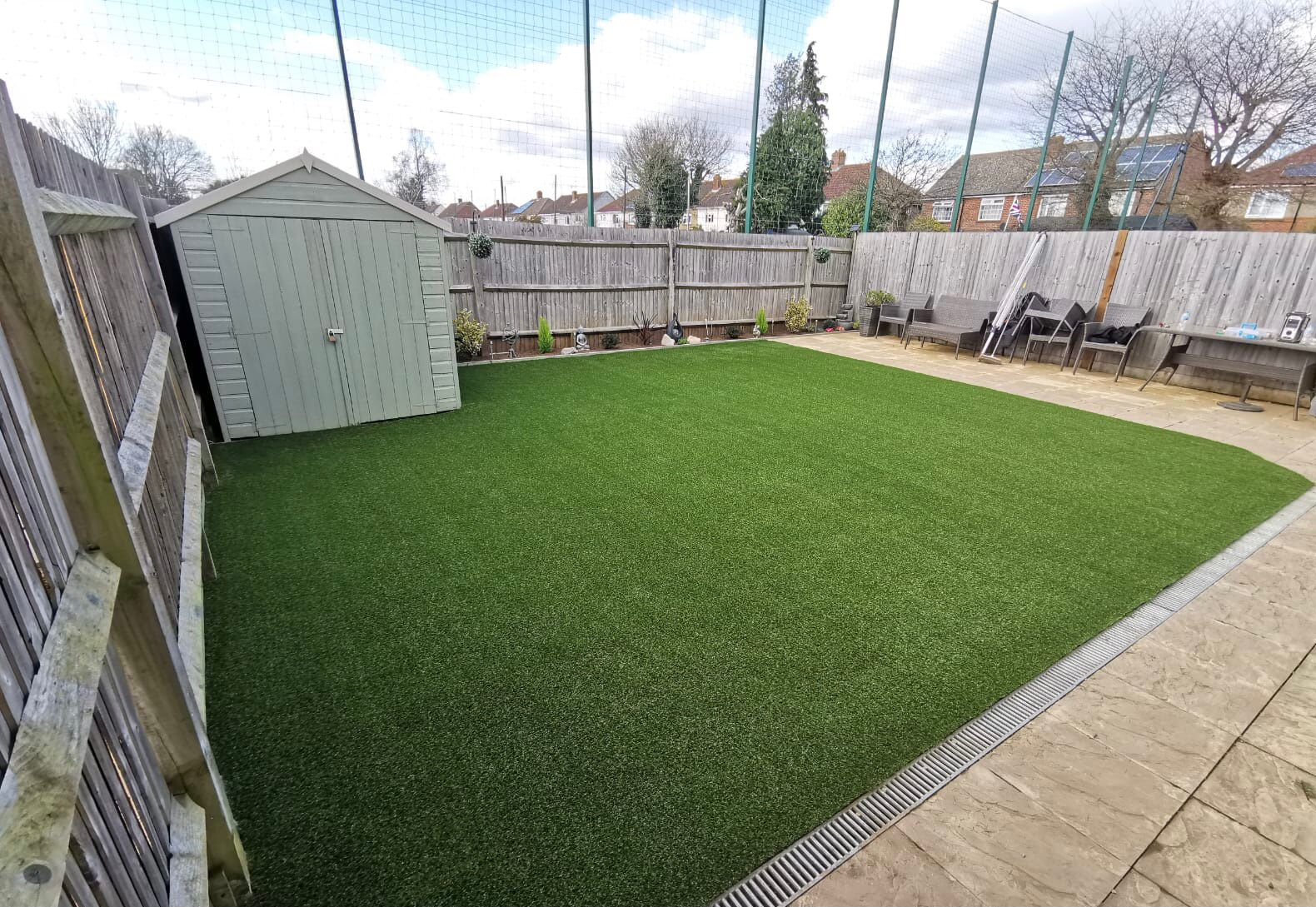 Note: Click on the bar a slide each way to see the transformation.
Don't Just Take Our Word For It, See What Our Clients Have To Say!
Let real reviews do the speaking!
Couldn't recommend these guys enough, super helpful & efficient, they had our garden done in under two days, the quality of work and quality of the grass is amazing! We're over the moon with our garden ☺️ once again thanks guys x
Rosie Ford
"Very professional and knowledgeable to give you the best out come for your garden. great time keeping they really work hard to get the job done. fair on price and quality would recommend."
Ann-Marie Tyrrell
"A very good experience from beginning to end. Neil responded immediately to our enquiry and came the next day to give us a quote.
We arranged a day and time for the work to be done the following week, and it was completed in less than a day.
Great communication the whole way through. The garden looks fantastic. Thank you."
Andrew Leakey
"Absolute top draw, professional reliable and great customer care. Would highly recommend 5*"
Amy Jane
"Just had my new grass fitted today. From the initial visit from Shaun to discuss my requirements to the installation today by Neil and Harry I cannot speak highly enough of everyone involved and they 100% delivery on everything they say. Truly outstanding finish from a top quality company. I would have no hesitation in recommending to my friends and family and the neighbours are keen as well to use them. Thanks again guys"
Stuart Witcomb
Shaun and the guys did a great job fitting out artificial grass. They were so helpful offering so many different varieties of grass and providing an exceptional service. Would recommend them to any of my friends and family. Will definitely be going back to them in years to come when the grass needs a new lease of life 😊
Paul Cannell
The work was carried out extremely professionally from start to finish. The men were very nice and helpful. I am over the moon with the outcome, my grass looks amazing! Can't thank you enough!! Would definitely recommend.
Pauline Sadler
Wow what an amazing company. From first visit to finished job we couldn't be happier with the service we've received.
Shaun and Neil are amazing and they go that extra mile for their customers which definitely puts your mind at ease.
Couldn't recommend them enough.
Thank you so much for making our garden perfect for our family.
We absolutely love it.
Vicky Mansbridge
Great service from South Coast Artificial Grass.
Shaun came round and gave us a quote that same day. Neil and the boys came round and did an amazing job, all done and dusted in a day. We are so happy we used you guys and wouldn't hesitate to recommend you 100%.
Andrew Bell
Fantastic job from start to finish. We were offered a variety of different grass types and given an honest opinion on what would suit out garden. The job was completed to a very high standard with full explanations into the work. Very pleased and would highly recommend.
Amie Gray
South Coast Artificial Grass were recommended to me for an 80m project. There prices were favourable compared to their competitors, and they carried out a first class job for me, no fuss, turned up when they said they would, and carried out a professional job. I have no problems recommending them if you're considering their services.
Alan Jarvis
These guys are top notch. Had Shaun assist me in many projects now. The guys work hard from start to finish. Not even a brush or wash down is needed when they finish. Truly treat each client as if it was their own First class service
kev shore
We love our new grass.
Prompt, tidy, friendly, great communication, good value, and an excellent job.
Would 100% recomommmend South Coast, and already have to a couple of friends.
Thank you
Catherine Courtney
South Coast Artificial Grass are highly recommended, I'm very pleased with the service they provided. Top notch work and excellent customer service, you won't be disappointed.
alex thorne
We had our artificial fitted yesterday. South Coast Artificial Grass Ltd are highly recommended very professional from start to finish. Excellent job.
Gary Hicks
Get In Touch!
Get in touch today for your free no obligation quotation, and take your first steps to transforming your garden
Fully Insured - Every installer has public liability insurance